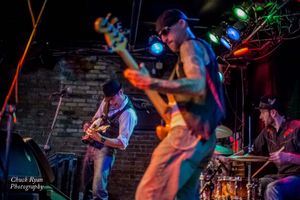 Bio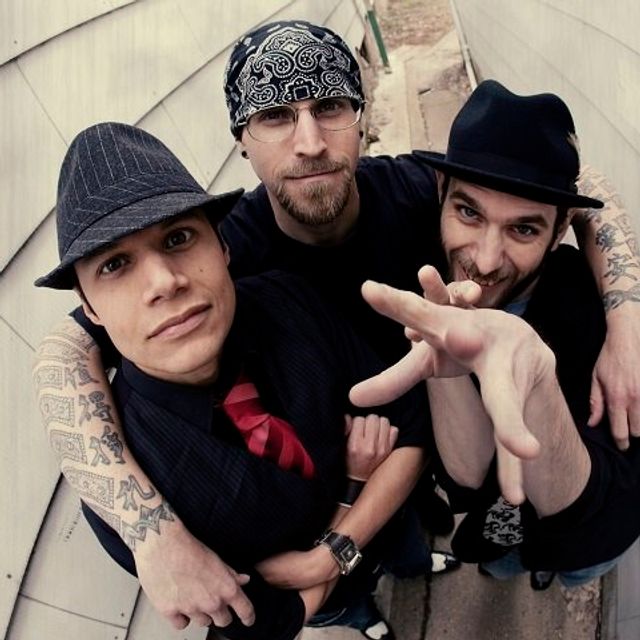 Aaron Williams and the Hoodoo
Formed as a trio in May of 2008, Aaron Williams (Vocals, Guitar), Eric Shackelford (Drums, Vocals) and Z (Bass, Vocals) have the blues deeply rooted in the music they love to play. The trio all met while Aaron was hosting a blues jam at the now defunct club, The Cuda Café. Not to long after this fateful night the band was playing all over their hometown of Madison, WI.
As word continued to spread beyond their hometown the trio began to tour all over the Midwest playing sold out shows in North Dakota, Iowa, Illinois and Indiana. As the band continues to grow musically they've fused blues, roots and rock music into and original sound that a growing fan base is recognizing and following.
This stripped down trio has been catching a buzz across the Midwest and South with their constant touring (over 170 shows in 2012) and exciting live shows. With a second round Grammy nominations in 2011 for "Blues Album of the Year" and "Best New Artist" they've been skyrocketing towards a nationwide breakout. Aaron Williams and the Hoodoo have been featured on several national broadcasts including CNN and WGN. They also had the distinct pleasure of being named WAMI Blues Artist of the Year (2012). A Madison Favorite the last six years (2008, 2009, 2010, 2011, 2012, 2013) as voted on by Isthmus Newspaper readers and taking home 6 MAMA awards in 2010 & 2011 including the coveted Artist of the Year has been a testament to the bands success in a very short period of time. They have had the pleasure to play at some of the Midwest largest festivals including, Summerfest, BAM Fest and Forward Music Fest. They've shared the stage with such notable artist as the Los Lonely Boys, Jonny Lang and Buddy Guy. Their debut release, "It Ain't Easy," won Blues/Rock Album of the Year 2010- Real Blues Magazine, 10:49 their second studio album was Grammy nominated and the brand new Live album, Live Loud Harmony has been critically claimed as "one of the best Live albums of 2013." The band looks to move forward and bring their sound to more and more fans looking for real original American music.
On their new Live album, "Live Loud Harmony," Aaron Williams and the Hoodoo follow in the footsteps of musical archetypes like Ronnie Earl, Buddy Guy, John Lee Hooker, The Black Keys, Kenny Brown and R.L Burnside. These artists inspire them not just for their work, but for their approach to their art. They exist outside the traditional economic constraints of "success" and "failure," and do their own thing on their own time. "They would all be playing music whether there was money in it or not," says Williams. "All of them would be homeless rather than do something else. In my mind, you're either a musician or you're not."
"Live Loud Harmony" is a tour de force of authenticity, covering sounds from blues, rock and roots. It's music the way it was meant to be played, with a music-is-my-life, let's-hit- the-road attitude. "You can't chase a record or an idea. You get to the real meaning, make it as good as you can make it and suffer the result." William's appreciates the simplicity of the approach. "If it moves you, then it's done. If it's perfect—but you're still not moved—then you've still got work to do. Music is personal, what one person likes isn't going to please everyone. We're in a business that you have to just accept, bad or good and just go with it."
"This record isn't perfect by any means. From a pop radio perspective this album has no chance. But we weren't trying to make a radio record; we kept it live, honest and to our hearts. That attitude became another member of the band the night they recorded this album. If that attitude was with us at all times, we knew we were doing something right."
"Ray Charles is my favorite singer of all time. But he doesn't sing about things no one else has sung. Muddy Waters borrowed from Robert Johnson. But what they have behind their words are genuine and sincere and for it to mean something is all that matters. As a songwriter and performer, that's all I can do – be genuine and sincere in my songs and performances."
Aaron, like so many other determined young player's had a veteran musician to learn the craft from, none other then his father, Hammond organist, Cadillac Joe Andersen. At the age of 16, Aaron picked up the guitar and became obsessed with the instrument. At the ripe old age of 18 he was already sneaking into some of the areas top jams and was keeping up with veteran players. He eventually found a home at the Silver Moon where many great players would show up on Thursday nights for this blues jam. With the likes of Looper Lucas, Michael Coleman and Buddy Guy playing, he was in the right place to learn the craft of a blues front man. After noticing this skinny little kid showing up and belting out the blues week after week Michael Coleman dubbed him "Youngblood" and would call him up to get on stage whenever the crowd needed a boost. Aaron still credits these years as the stepping stone to the kind of player he is today.

Cadillac Joe, noticing his kid's prowess for the blues signed him on for his next project, The Cadillac Joe Blues Band. Touring the Midwest extensively with his father, Aaron was able to learn the craft and business of music. "I wouldn't trade those years for anything in this world, spending all those miles in a truck with the old man….you learn a lot of things, not only about music, but life." The road took them to some of the Midwest's top blues cities and clubs, playing large music festivals all over the U.S. With the stock rising on the Cadillac Joe Blues Band, one of the top blues clubs in the Midwest, Luther Blues in Madison, took them on as their house band. This gave Aaron a large following and he was able to play with some of the foremost blues players in the world. Shemekia Copeland, Coco Montoya, Jimmy Thackery, Carey Bell, Lil' Ed, Anthony Gomes, Ana Popovic, Taj Mahal, Canned Heat and the list goes on. Upon hearing Aaron play Coco Montoya said, "Kid, you got a real future in this business, keep it up!"
Aaron Williams and the Hoodoo's music is unwavering, filtering blues, soul, roots, and rock through a prism of emotional authenticity. What emerges isn't a reinvention of the wheel, rather something undeniable, and the very definition of a force of nature. It's real American music at its core and at its best.